Use case:
5G SEPP Roaming
Validating control plane protection for inter-PLM security with CUPs and for SEPP-enabled 5G roaming
5G SEPP Roaming
The Security Edge Protection Proxy (SEPP) is a key enabler for secure 5G roaming, protecting for inter-operator control plane signalling. Ensuring effective performance is essential
Full inter-operator roaming between 5G Standalone requires border protection for control plane signalling. The SEPP fulfils this role, performing filtering and authorisation checks on SBA traffic entering and leaving the network, providing access control for roaming traffic.
5G SEPP Roaming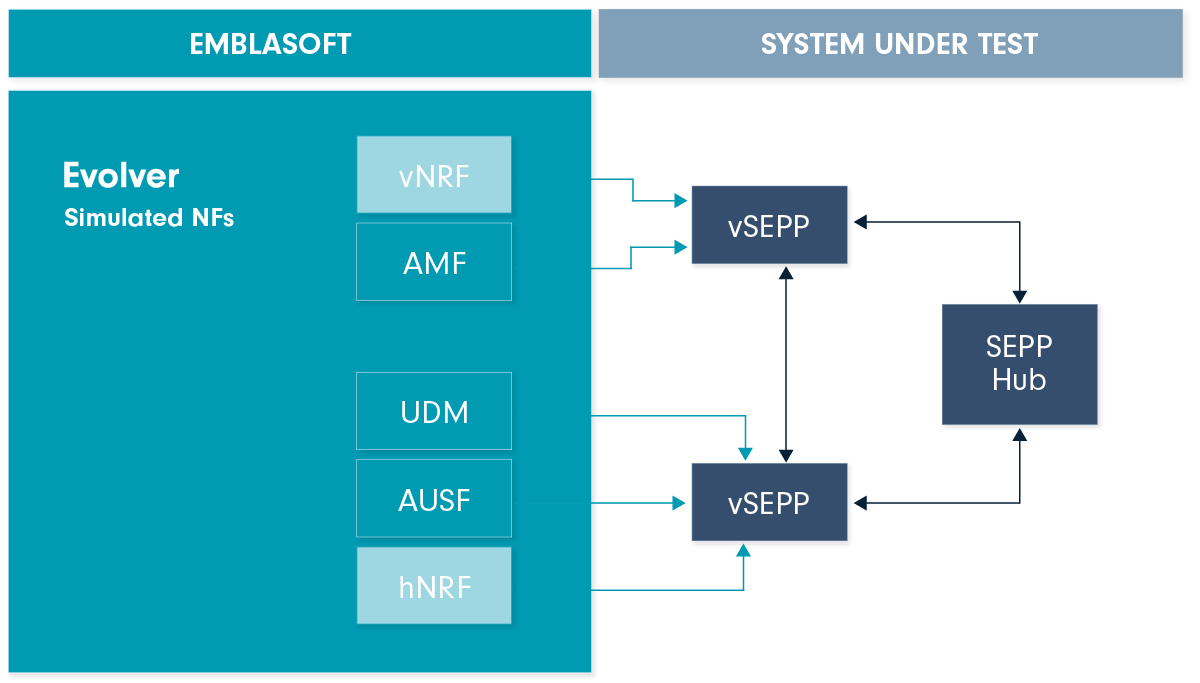 Complete lifecycle testing and assurance for the SEPP with Evolver
Flexible, agile service validation and active monitoring
Evolver enables complete lifecycle testing and assurance for the SEPP function across N8, N12 and N27 interfaces. It enables service and performance validation in pre-production environments and in-service, active monitoring for continuous assurance. Emulate the complete 5G core, or individual nodes to evaluate specific interfaces – or perform wrap-around tests for end-to-end modelling.
Ensure the success of new full-5G roaming services with comprehensive assurance and agile automated testing as you build out new roaming agreements or interconnect with hubs. Follow dedicated test programmes or create specific roaming scenarios with flexible editing functions, ensuring that SEPP performance matches your requirements.
Simulate all NFs and individual UEs
Cases covering each node connected to the vSEPP and hSEPP, as well as live subscriber scenarios
Validate mobility scenarios at load
Automated test and active monitoring between AMF functions, end-to-end, to deliver quality roaming services
Model and assure any roaming scenario
Evolver enables user and IoT traffic control to be modelled, supporting any new commercial roaming functions
Comply with GSMA / 3GPP definitions
GSMA NG113 and 3GPP TS 29.573 / 33.501 testing and assurance for 5G security architecture and procedures