Performance testing to ensure your network services scale
Ensure quality and experience is maintained under extreme traffic load
Dynamic service scalability is mandatory – performance testing enables you to deliver
Service load can have a huge impact on performance of network nodes and subscriber experience. Performance testing helps you to understand and tune behaviour
What happens when you ramp up traffic?
Evaluating service performance means testing with increasing load to determine impact on quality
Every network node has specified performance thresholds – but how do these really stack up when services are deployed at scale? Does vendor software perform consistently in your unique virtual environment?
The simple fact is that you cannot know how services will really perform, unless you subject them to real, sustained stress, with different traffic patterns.
Understand how services perform with variable load
Service consumption can change dramatically, with unexpected surges in demand
Every service enjoys peaks and troughs of demand, and often deviates from expected traffic volumes. Performance testing allows you to check how individual services scale and deliver, with different traffic loads. In addition, it can be used to explore the impact of one service on others – so you can ensure there's no disruption to other users.
Performance Testing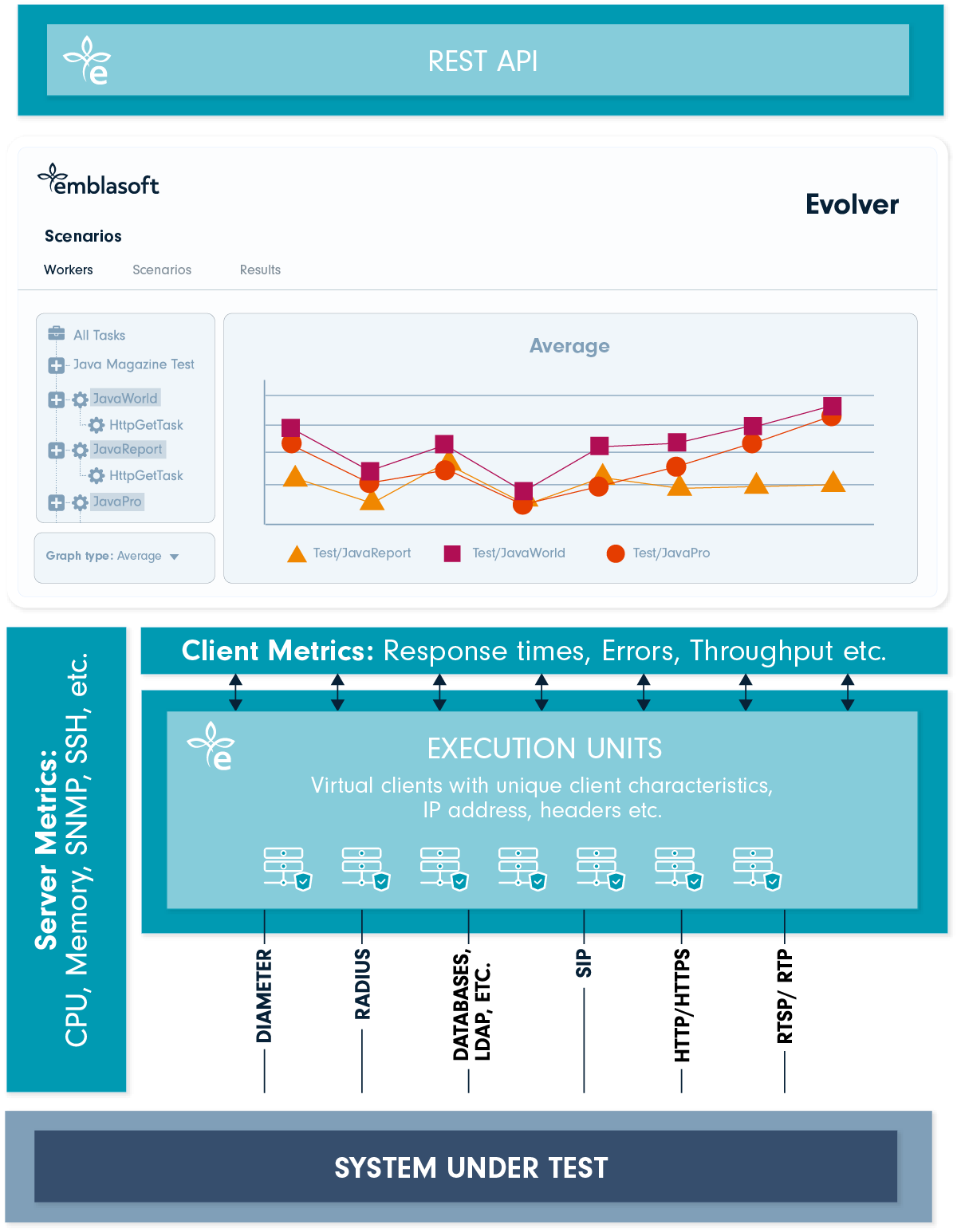 Prove services can scale gracefully
Performance testing helps you deliver services to reach the target user base.
Investigate impact on other services
Make sure that resources can be allocated to all users and services, with no degradation.
Validate vendor claims for your network
Understand performance of virtual software elements in the context of your environment.
Model realistic traffic scenarios
Use performance testing to emulate real-world traffic conditions and demand.
Evolver Product Overview
Functional testing, performance testing and active monitoring for mobile networks
Emblasoft provides proven performance test solutions that support service delivery, at true scale
Stress your network and services with Emblasoft
Performance test solutions from Emblasoft enable you to discover how services really perform in your unique network, ensuring you can deliver the quality your customers expect. They enable you to define user traffic and change parameters, including the addition of user plane data to obtain an accurate picture of real-world performance.
Emblasoft's solutions mimic real UEs, which you can tune to match your subscriber base. Run a mix of services, at different loads and with different traffic patterns to stress your network and learn how different services perform in combination and understand impacts on the network with scale, covering expected and unexpected volumes.
Model real traffic, with realistic load
Create performance test programmes that mimic subscriber activity patterns, with control and user traffic.
Automate test cycles for continuous assurance
Integrate with automation frameworks, allowing test cycles to be aligned with delivery schedules.
Test services in combination or isolation
Run programmes for specific services, or alongside others to model impact across your portfolio.
Test SLA conformance with real situations
Examine how SLA-backed services perform under different conditions and with traffic growth.