Active monitoring for live networks
Why active monitoring is essential for the continuous assurance of differentiated services
Monitor and measure QoS and KPIs in live networks and slices
Service assurance has long been handled by passive probes, but today's cloud-native networks now require active monitoring to complement traditional approaches
Active monitoring enables MNOs to assure multiple differentiated services
Enable thousands of live measurements, in live networks
Surging data volumes, dynamic scalability and, with 5G, growing end-to-end encryption, make it difficult to monitor traffic with traditional, passive probes. 5G services also demand a wide range of different QoS settings, particularly for mission-critical applications. It's essential that MNOs can continuously validate and determine the performance delivered.
Individually monitor, test and continuously optimise live services
Secure real-time feedback and control
Active monitoring is based on the deployment of software agents – mimicking UEs – into live networks. They participate in real services and interact with delivery components, enabling the collection of real-time data to assess performance and the experience delivered to service users. Agents can be controlled to test different service features.
Active Monitoring in Live Networks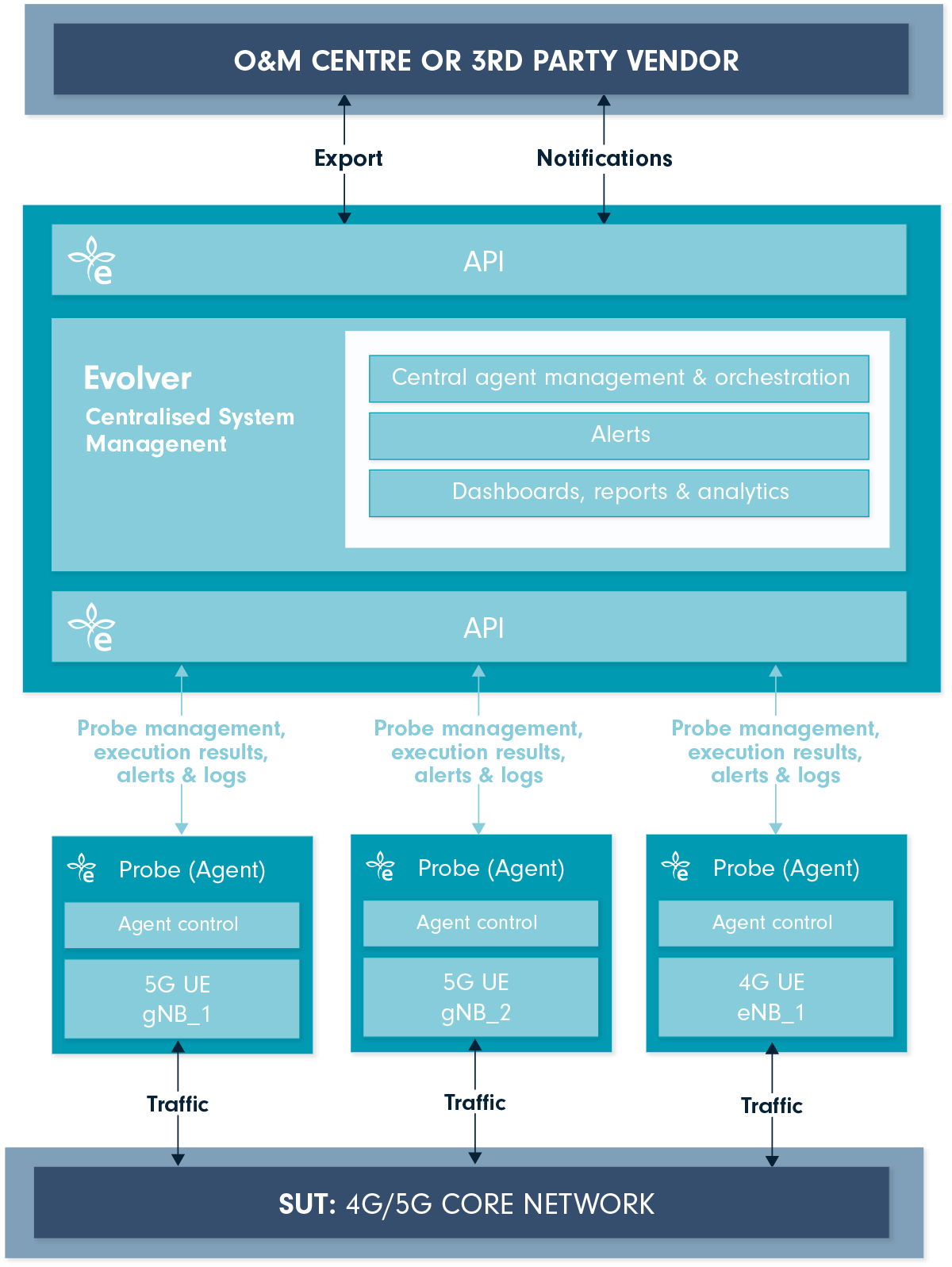 Measure QoS delivered per service, slice and location
With differentiated services, MNOs need to know how each behaves in the live network across slices and domains.
Validate SLA performance for your partners
B2B partners depend on the SLAs you offer; active monitoring enables objective verification of delivery.
Monitor service chains through requests to SBA nodes
Complex services span multiple entities in control and user planes. Live, end-to-end validation is essential.
Align with dynamic orchestration and automation
With new levels of service agility, you need live active monitoring to move in lockstep with dynamic systems.
Evolver Product Overview
Functional testing, performance testing and active monitoring for mobile networks
Emblasoft's active monitoring solution capture key metrics for the delivery of differentiated services
Live validation of performance, from the network
Emblasoft's active monitoring solution is based on a complete, distributed architecture, extending from monitoring agents (UEs) to the execution platform and control centre. Configurable software-based agents generate user traffic and capture metrics regarding the QoS delivered, for multiple applications and services, across all technology domains.
The execution platform can be deployed in virtual architectures and service orchestration can be performed from our solution, or via an MNOs existing orchestration platform, ensuring effective automation. The control centre manages thousands of agents to ensure that active monitoring is provided for all relevant services, at scale.
Adaptable to multiple use cases
Use pre-built or create your own test scenarios, for any service and feature.
Measure QoS, latency and more
Assure RCS, SMS, RB, video and IoT services, with live KPI reporting.
Span network slices and service domains
Validate service performance across slices and domains, for control and user planes.
Integrated with your operational environment
Cloud-native and fully automated, with API integration to key systems and nodes.