Odin
A complete, turnkey solution to enable VoLTE, VoWiFi and MMTEL in your network
Service enablement with IMS for your network
Odin is a turnkey, pay-as-you-grow IMS core platform that enables the rapid launch of core voice and video services
Built for 5G, 4G and Wi-Fi networks, Odin includes all key functional nodes, such as P-CSCF, I-CSCF, S-CSCF, BGCF, E-CSCF, ePDG, and IMS application services. It is fully virtualised and cloud-native, supporting your transformation goals. It includes LI and CALEA capabilities, ensuring regulatory compliance.
Simplify your migration to IMS and VoLTE
Rapid deployment of IR.92, IR.51 and IR.94 services
Applications run in a secure, containerised environment that allows rapid development and customisation, and alignment with your cloud evolution.
Backwards compatibility with existing subscriber data is enabled for HLR-based deployments, eliminating the need for HSS migration and minimising IT costs.
Optimised for independent operators
CSPs and MVNOs/MVNEs can easily grow NGN services with Odin
Odin provides a clear migration path to IMS and NGN services for even the smallest operator. Proven in multiple deployments, it offers an affordable option for growth.
A lightweight version is also available to support IoT applications that require voice or other IMS services, enabling deployment alongside existing investments.
VoLTE, VoWiFi & MMTEL Service Enablement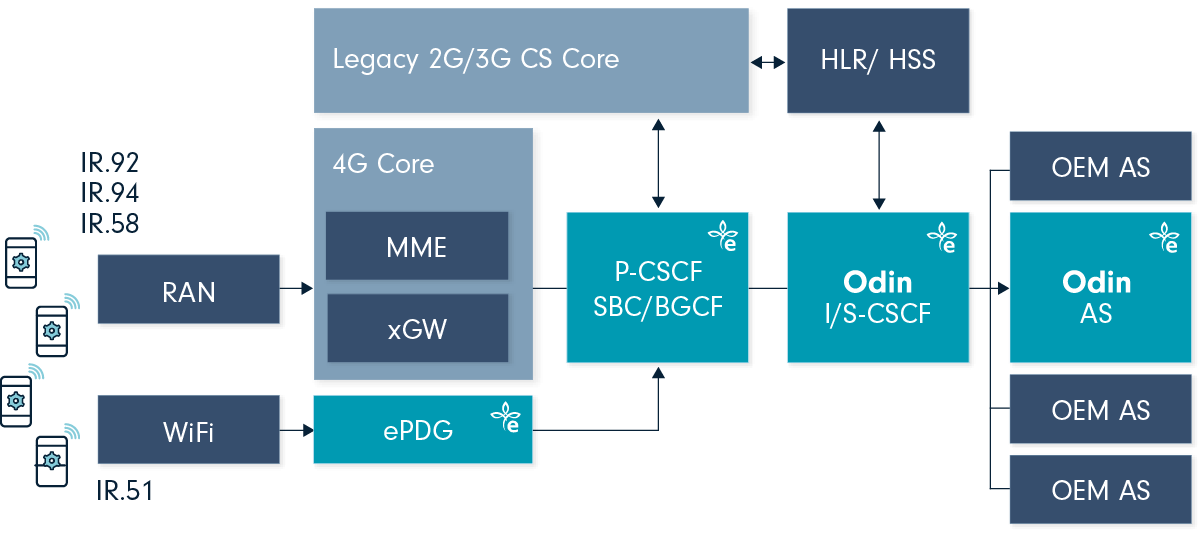 Rapid time to market and service launch
VoLTE and VoWiFi can be launched in as few as 6 weeks, with broad device compatibility and support.
Private or public cloud support
Install in your own cloud or benefit from AWS / public cloud to ease your transition and reduce costs.
Pay as you grow flexibility
Odin offers outstanding ROI with PAYG models, protecting budgets and enabling you to invest in subscriber recruitment.
Interoperable and standards compliant
Based on 3GPP / GSMA standards, Odin provides a compliant solution that evolves to meet new requirements.
Odin Product Overview
A complete, turnkey solution to enable VoLTE, VoWiFi and MMTEL in your network